Serena gets #19
Serena Williams hoisted another trophy at this year's Australian Open, her 19th major title and counting. In the process, she also collected her 15th consecutive victory over Maria Sharapova. The last time Sharapova beat Williams was the year end championships back in 2004. It seems pretty clear that Maria's game style doesn't present problems for Serena, but this final should give Maria more belief for their future encounters. In this match breakdown I'll look at some of the important statistics you'll probably never hear about, and why those numbers are critical for Sharapova in particular.
Encouraging signs
One of the most interesting stats that is seldom talked about is "Points Won by Rally Length". In my previous match analysis article on Roger Federer Vs Novak Djokovic, I talked about the importance of this category. Federer was able to reverse the trend of losing longer points against Djokovic in their Shanghai matchup by adjusting his court position and tactics. So what does that have to do with Maria and Serena? Everything, it can help Maria figure out where she needs to get better to give herself a chance to win. As we see in the chart below, Maria did an excellent job of competing in points when the rally lasted more than four shots.
Rally's that consisted of 5-9 shots were even at 19 points each, 10-14 shot rally's had Maria up by one, and 15+ shot rally's were few and far between with a one to one split. Where Serena dominated was in the 1-4 shot category. Winning 55 of the 92 points played in this category means she won 60% of those points. Sharapova did extremely well once a point went beyond four shots, but unfortunately, the vast majority of points played (66%) were four shots or less.
Serena down but not out
When Serena got down in her own service games, it was shocking how often she was able to close the door on Maria by making big first serves. There were 13 points played in Serena's service games where she was behind on the scoreboard. She made 8 out of 13 first serve attempts (61%). Of those eight first serves made, half of them were aces or services winners (4). She excelled the most while facing the biggest deficits at 0-30 and 15-30, coming up with 3 aces and 1 service winner in those six points. As much as people talk about the serve of Serena Williams, not only does she serve better than any other WTA Tour player, she served better on some of the biggest pressure filled points of the match.
Maria held her ground
Where Maria did an excellent job was in her own service games. She attacked more consistently when Serena put the return of serve in play and played inside the court more frequently. One of the categories I like to talk about in tennis is "Damage". What's damage? Damage is when you hurt your opponent with a shot, and more often than not hurting your opponent leads to better court position and the potential to finish the point. Serena did a better overall job in her service games, but Maria was considerably more aggressive when Serena put the return of serve back in play.
Maria hurt Serena around 38% of the time with her Serve +1 combo. Of the 17 times she caused damage on that shot, twelve of them (71%) were shots where she had court position with at least one of her feet inside the baseline (Zone 2). She was able to do damage with her Serve +1 combo four times from Zone 3 (behind the baseline), and just once from Zone 4 (halfway to the back fence). A picture of the zones is shown below.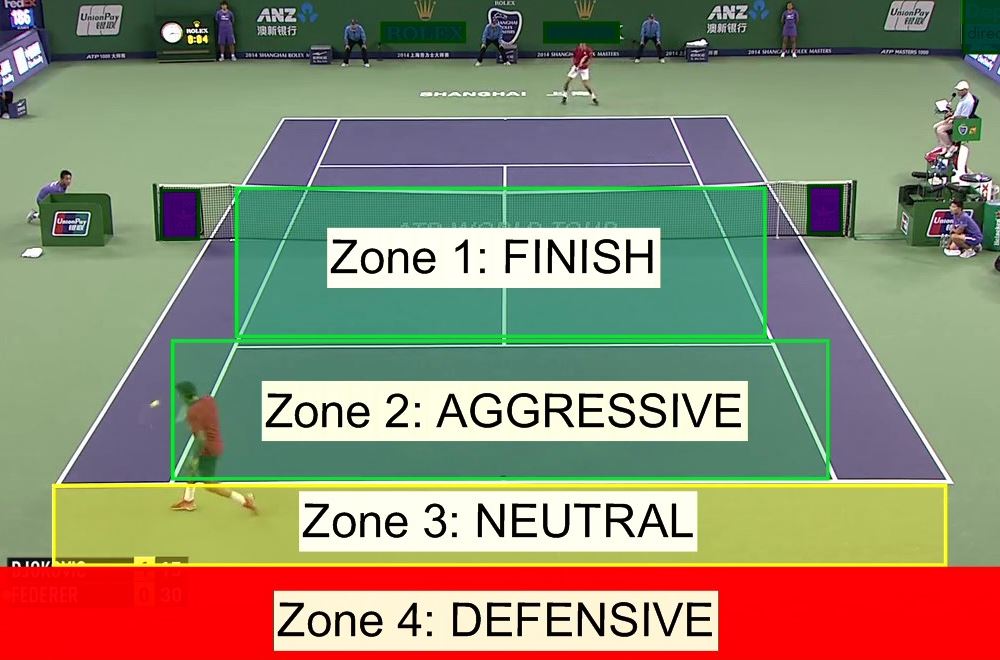 Serena wasn't as aggressive with her Serve +1 combo, inflicting damage eight times (26%) and hitting four winners (13%). On 75% of the balls Serena hurt Maria with, she was positioned with at least one foot inside Zone 2. Maria countered the excellent serving of Serena by maintaining her position inside the court. She effectively took the ball early in Zone 2, and that helped her take time away from Serena. She knew she had to play with intelligent aggression to have a chance in this match, and she did just that.
Why Serena was less aggressive with her Serve +1
Serena had fewer opportunities to be aggressive (45-31), and a higher number of her Serve +1 points were off her second serve. Serena had a total of 23 aces/service winners in the match, while Sharapova had just 7. So what can Maria do to solve the Serena puzzle and hoist another Grand Slam trophy?
• Work on her footwork and defensive skills. Serena is probably the best on tour at absorbing and playing defense when necessary.
• Continue to work on her first serve and variety. Serena did a better job of mixing up her serve placements; her ace/service winner placement was close to even with her favoring the T slightly.
• Look to play inside Zone 2 as frequently as possible to take time away from her opponent.
• Get better in the 1-4 category by playing good first strike tennis while minimizing errors.